Optimara Violets are now available in a variety of decorative, self-watering containers. All Optimara Self-Watering Ceramics are elegantly sculpted from heavy-cast porcelain and glazed to produce an attractive finish that is also very durable. Designs include many eye-catching patterns, both traditional and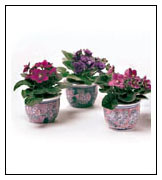 contemporary, and they are available to fit all of Optimara's standard 4-inch, compact, miniature and super miniature varieties.
Self-Watering
As an added value, Optimara Self-Watering Ceramics are as practical as they are decorative. As their name suggests, these ceramic containers are self-watering. They employ Optimara's patented wicklock system to draw the proper amount of water from the container into the soil. It's the same self-watering feature that has made the Optimara MiniWell and MaxiWell so popular with growers of African Violets.
Many Styles and Patterns
Optimara Self-Watering Ceramics are available in an array of colors and patterns. Styles include the Optimara "Love Seat," a ceramic container which hold two flowering African Violets. In addition, Optimara Self-Watering Ceramics are available in a number of holiday styles, especially designed for Christmas, Valentines, Easter, Mother's Day and other special occasions.
More Than Just Another Pretty Vase
As holiday gifts, flowering party favors or accents at dinner settings, Optimara Self-Watering Ceramics offer more than just another pretty vase. Because they are self-watering, they also make growing African Violets easy. And if they also look good doing it, then that's just one more reason why Optimara Violets are simply beautiful.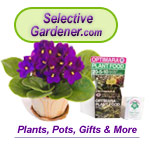 To order any of the products discussed on this page, visit
Selective Gardener


Copyright 1999-2002 Optimara/Holtkamp Greenhouses, Inc. Nashville, Tennessee. Doctor Optimara, the Doctor Optimara logo and Optimara Field Guide are trademarks of Holtkamp Greenhouses, Inc. Optimara, the Optimara logo, EverFloris, MiniWell, MaxiWell, WaterShip and Watermaid are trademarks of International Plant Breeding, A.G., Switzerland.