Below is a list of other African Violet sites which may be useful to you. While all are known to be
reputable sources of information, Optimara can neither endorse nor guarantee the accuracy of content.
African Violet Society of America (AVSA). This is perhaps the best, all-around source for further information on African Violets. The AVSA is a non-profit, member organization which, for more than 50 years, has been instrumental in the collection and exchange of information pertaining to African Violets. In addition to numerous other resources, the AVSA publishes the African Violet Magazine.




Links to Gesneriad Sites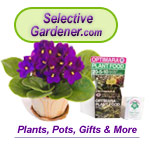 To order any of the products discussed on this page, visit
Selective Gardener


Copyright 1999-2002 Optimara/Holtkamp Greenhouses, Inc. Nashville, Tennessee. Doctor Optimara, the Doctor Optimara logo and Optimara Field Guide are trademarks of Holtkamp Greenhouses, Inc. Optimara, the Optimara logo, EverFloris, MiniWell, MaxiWell, WaterShip and Watermaid are trademarks of International Plant Breeding, A.G., Switzerland.