Identify African Violet Varieties

The Optimara Field Guide allows you to find and identify Optimara and Rhapsodie Violets using a number of search criteria. To begin, make a selection from the list below.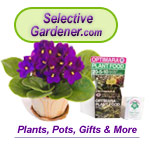 To order any of the products discussed on this page, visit
Selective Gardener


Copyright 1999-2002 Optimara/Holtkamp Greenhouses, Inc. Nashville, Tennessee. Doctor Optimara, the Doctor Optimara logo and Optimara Field Guide are trademarks of Holtkamp Greenhouses, Inc. Optimara, the Optimara logo, EverFloris, MiniWell, MaxiWell, WaterShip and Watermaid are trademarks of International Plant Breeding, A.G., Switzerland.