The Optimara Glossary of Violet Terms contains hundreds of entries relating to African Violets and other horticultural topics.
Each definition is cross-linked to help you find further information about the topic you are researching.
To look up a definition, select one of the volumes above, or use one of the text links below.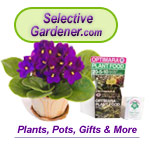 To order any of the products discussed on this page, visit
Selective Gardener

Copyright 1999-2002 Optimara/Holtkamp Greenhouses, Inc. Nashville, Tennessee. Doctor Optimara, the Doctor Optimara logo and Optimara Field Guide are trademarks of Holtkamp Greenhouses, Inc. Optimara, the Optimara logo, EverFloris, MiniWell, MaxiWell, WaterShip and Watermaid are trademarks of International Plant Breeding, A.G., Switzerland.